Workshops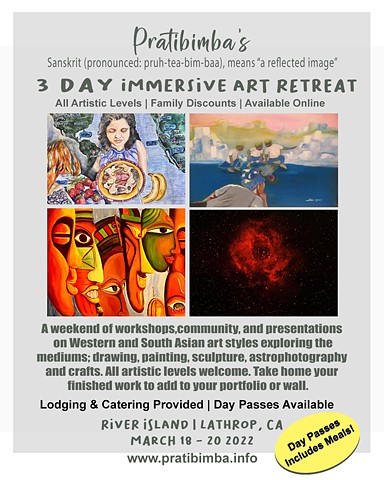 In these chaotic times, it's nice to have a space of respite to collaborate with other creatives, grow your artistic practice, and experiment with various media. Join us on the scenic San Joaquin River Delta for a 3-day immersion into art classes and workshops, yoga, and meditation.
Classes include Warli art, Plein art acrylics, kalamkari, and Mughal miniature art. Workshops include miniature sculpture and drawing intensives. Mornings will begin with early meditation and yoga to prepare us for a day of art intensives. Enjoy delicious nutrient-dense vegan meals and walks by the river.
Lead by practicing artists Sujata Tibrewala and Sabrina Davidson. Vegan breakfast, lunch, and dinner will be provided. Some specified materials are included although we will share a list of supplies weeks before the retreat.
Scholarships and Discounts are available 2 Scholarships available for Dorm/Loft Style. Please send a 300-word minimum request for scholarship or discount to Sujata Tibrewala. You will be notified within one week of your acceptance. YOU CAN GET A 10% OFF REFERRAL DISCOUNT
For Participant Safety, all participants regardless of vaccination status must submit a negative PCR COVID test within three days before the retreat and agree to stay in our creative bubble for the duration of the weekend. By forming a bubble we can ensure each other's safety.
More info and sign up on Book Retreats and We Travel.
Classes and Workshops:
Sign up for a free week of trial classes starting March 12th
1. Mandala Re-invented with Water Colours
This class is one of our most popular, having been featured in several galleries and art events, such as Life Force Arts Ensemble and the Tahoe Art League.
Mandalas literally mean a circle and have existed in traditional art for almost 12,000 years. It represents the universe and the inner self and its self symmetric designs are pleasing to the eyes. They are known to reduce stress, anxiety, depression and help one calm down. This class takes them to another level and uses modern symbols and watercolor techniques to represent the modern world we live in today. You will learn to dig into symbols that are meaningful to you and learn skills such as perspective, color theory, patterns in nature, and modern watercolor techniques.
Get a glimpse into this class with this video.
2. Plein Air Acrylics
The biggest tool an artist has is their eyes. They can reflect everything precisely like a camera. However, our brains are designed to abstract away information by labeling what we see with words. This is why when most people draw, they draw what they think something looks like rather than the colors and shapes they see. In this class, students will use exercises to frame a scene and then create a painting using what they see, rather than what their brain has shorthanded the scene to be. This practice will develop your artistic eye and expand your ability to paint realistic and abstracted art alike.
Check out this video to see an exercise you would do in this class.
3. Warli Art
Warli painting is a form of tribal art mostly created by the tribal people from the North Sahyadri Range in Maharashtra, India. This range encompasses cities such as Dahanu, Talasari, Jawhar, Palghar, Mokhada, and Vikramgad of Palghar district. It originated in Maharashtra and is still practiced in the region. In this class, we will look at some warli symbols, what they mean, and paint our own warli masterpiece using acrylics.
4.Art out of Discard
In this class, students will learn the power of acrylics and how to use them to turn packaging material into a piece of art. You will learn how to use the texture of underlying material and create useful items out of products you would ordinarily throw out. This class is the perfect way to get creative and implement the principles of "reduce reuse recycle.
See something Sujata made through these techniques here.
5. Artiscience
In this class, students will learn how the principles of science, physics, chemistry, and mathematics come into play when creating realistic art. We will consider perspective, 3D modeling of objects, and properties of light to understand the objects we depict in our art. To make this learning fun, we will be doing plenty of fun exercises to make this exploration educational and fun.
Check out this video for more info.
6. Kalamkari Art
Kalamkari art is a type of hand-painted or block-printed cotton textile produced in Isfahan, Iran, and in the Indian state of Andhra Pradesh. In the Srikalahasti style of Kalamkari, the "kalam" or pen is used for freehand drawing of the subject, which we then fill in with the colors. We will explore this art style and create our own pieces. This class is a great way to discover a new way to express and depict your artistic vision.
7. Guided Visual Imagery
Art was humanity's first language, invented 20,000 years ago before spoken and written language which was invented 2000 years ago. With the loss of art, we lose our basic language. That is why art is so de-stressing because it helps us express things that we are not able to express in words. In this class, we will combine the mindful practice of guided visual imagery and combine it with art to get in touch with our emotions, release the stressors in our lives, and learn to embrace art as a tool for healing.
Check out this video for more an exercise we would do in this class.